Vote now! Swaylocks Build of the Month, February 2023
Together with:
---
"Technology is a useful servant but a dangerous master." - Christian Lous Lange
I'll admit it. I've been dabbling a lot lately with all the new AI technologies, from ChatGPT to a program called MidJourney which I used to create the images above, using the prompt "3d image of a Skil 100 planer, metallic, futuristic." These are undeniably powerful, disruptive technologies that are changing humanity, evidenced by the proliferation of blog and news posts on the topic. And yes, these technologies will surely infiltrate the surfcraft industry, if they haven't already.
No matter what happens though, I'm 100% certain that there will always be a market for unique, high-quality, hand-built surfcraft. And my hope is that the Swaylocks community will continue to be the central meeting place for celebrating and growing that tradition.
And speaking of growing, I'm very stoked to announce our newest sponsors, Resin Research and AkuShaper. You'll find their links below and around the Swaylocks platform. Please pay them a visit, say hey and let them know Swaylocks sent you.
Enjoy!
Mike
---
Our Winner for January BOTM!
#6 / Mini Pintail Longboard by Paige Caron
Paige Caron - Age 18
Westerly HS Class of 2022 Sr. Project
Westerly, Rhode Island
Mini pintail LB
Epoxy/EPS
---
This newsletter is brought to you by:
Resin Research was founded almost 40 years ago by Greg Loehr, a surfer/shaper turned self-taught mad scientist. Greg's passion for surfing started when he moved to Cocoa Beach, Florida at 13, and he quickly became a professional surfer, winning multiple tournaments. His love for the sport led him to shaping and laminating boards, and his fascination with its evolution ultimately drove him to develop best-in-class epoxy products trusted globally.
To learn more about Resin Research and what sets us apart, click here.
👍👍👍 Time to vote again!! 🗳️🗳️🗳️
Build of the Month - February 2023
#12 / The Memorial Glider by Huck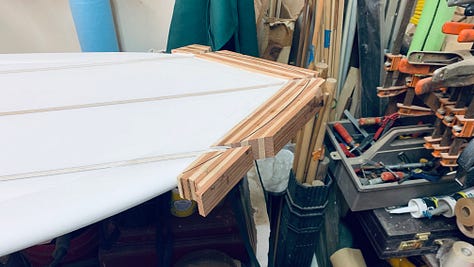 My entry for BOTM is a 9-6 glider that I built as a sort of "memorial" for my family that passed. I noticed some people putting memorial decals on their vehicle, and it seemed a kinda cool way to remember someone with something that you use every day. I don't use my board every day, but I built this hoping it would become my new go-to for most surf sessions. And a memorial surfboard seemed appropriate, as the ocean is a healer in so many ways, and I really needed a lot of healing. Plus, now that its finished, I get a lot of comfort when I look down and see their names on the deck of my board, reminding me how blessed I am to have had them in my life.
The board is 9-6 by 23 by 3, made from a US Blanks Rennie Yater longboard blank. I kept the natural low rocker of the blank, its a very even curve, no "kick" front or back. I set out to incorporate some sentimental connections to my family, and also wanted to try to incorporate wood in a few areas.
The board has a little belly up front, something like 60/40 rails through the middle but just a little "pinched" so they're not real fat round rails, and then down rails in the tail, pretty standard, with some panel-V. The board has been ridden a few times, and so far I am very pleased with it. Since the storms hit I haven't been surfing, so I missed all the epic waves and chocolate water, and I'm not sure when I'll get it back out, some bad storms predicted for the next few days.

The wood is paulownia. My signature leash anchor. Finished weight 18 lbs.
---
#13 / Channel Twin by Harry Gordon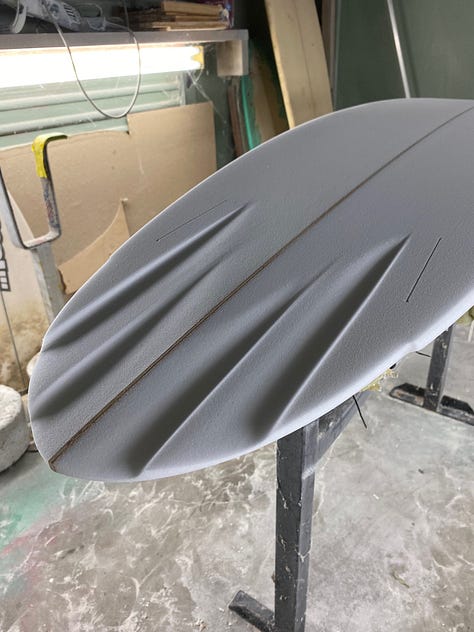 The board was shaped from a CNC cut PU blank I had sitting around for the past year. I tweaked the tail shape with a flyer just in line with the tip of the fins and added four channels to the slight single concave with the outer channels longer than the inner channels. The board dimensions are 6'9"x 20 1/2"x 2 3/4" with an eggy outline and low rails.
The Glassing included a single 4oz lamination on the bottom with resin tints to match the fin colours and a 4oz patch over the channels and beneath fins. The deck is a flax cloth inlay with a blue tinted 4oz lamination over the top.
I wanted glass on fins so I cut the tabs off a pair of Asher Packy twins from Shapers and glassed them on. A white posca pinline to accentuate the flax and a wet and dry finish. This is board number 31 for me. Let me know if you want any more detail.
---
#14 / Agave/Balsa Single Fin by Dick Gregory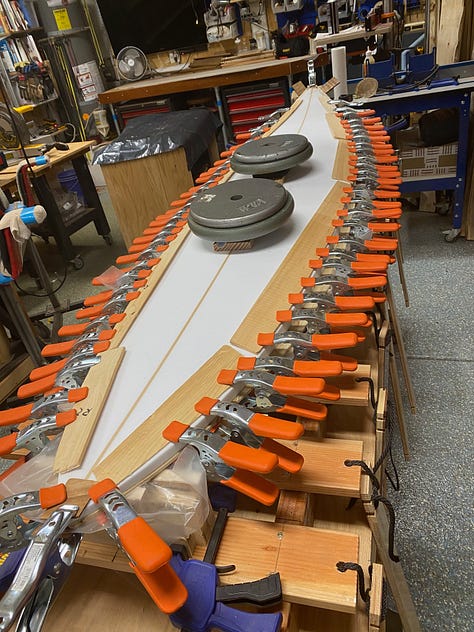 For your consideration…this board is one of the first custom builds I've executed. It was commissioned by my daughter for clients of hers who wanted a wall hanger for their second home on Maui. I sketched an outline and gave them some material choices, but I have to say it's easier and more satisfying to design and build independently.
The clients had seen and liked a 10'0" board with a deck and bottom of agave/balsa that was too big for the wall space where it was to be displayed. I had enough agave left to complete only the deck. The trim strips are redwood, and the rails paulownia.
While I didn't have enough agave to build a matching bottom to the board, I'd just found some surprisingly lightweight cottonwood at Lumbercycle, a nonprofit community sawmill in National City. (lumbercycle.org) I book matched the four panels and set them off with redwood.
The nose rocker on this board is 5". When I was gluing the bottom panel it cracked near the tip which required an inlaid patch of redwood to "repair" the nose before adding the rails. I've found that accidents, oversights, and mistakes during a build are initially frustrating, but often result in an interesting visual element when treated as a new challenge after the cursing is over.
The rails are six 8mm strips alternately glued at 90 degrees to the board. They are shaped with hand tools (planes for flat and convex surfaces and a curved Surform for concave where the deck transitions to the nose rocker) and sanded to blend with deck and bottom.
The California abalone sport fishery closed in 2017. I was fortunate to have enjoyed 35 years of NorCal diving (and dining) up to that point. I've since decided that all my boards will have a signature red abalone inlay somewhere on the build. This board was glassed at the Whitlock surf shop in Oceanside.
---
#15 / Flower Power by Stephan St. Louis
Hello, I'm presenting a new board, name Flower Power, it's a nose rider 9'4" x 23" x 3". 2 layers of 6oz on top, 1 layer of 6oz on bottom and a fin patch of 6 oz. The board is made with Resin Research epoxy. It has a very low rocker, I made the flower patch with silk paper. Big Thanks to Matt Kazuma Kinoshita for always, quick answering my questions on Instagram, and finally settle my fish eye problem! On top, I painted in green my first layer of glass and on the bottom, I tinted my resin in green. Thank You For reading!!!
---
#16 / Triplane Pintail by Ethan Miller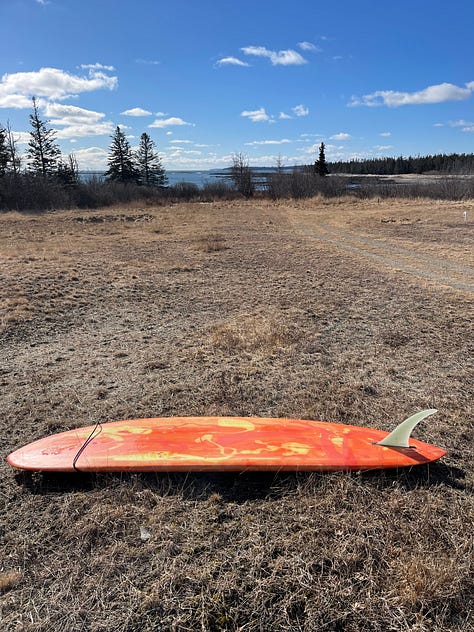 8'3" x 23" x 2 3/4" triplane pintail single fin. Rolled vee nose into triplane mid section rolled vee out the tail boxy 60/40 rails. It was a fun challenge to shape. Paddles like a dream. floaty, loose turns.
---
#17 / Western Red Cedar Hollow by Joel Feenstra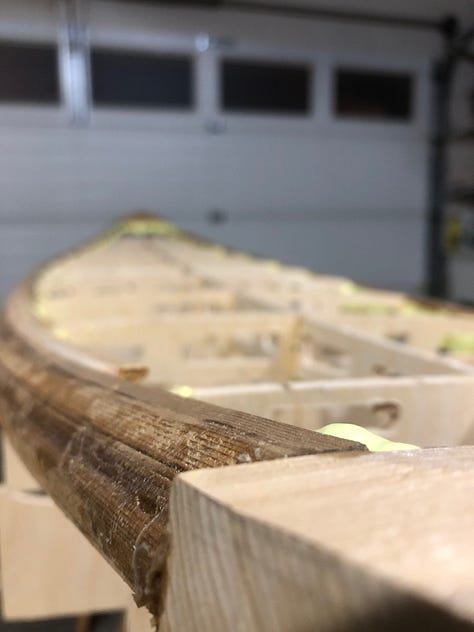 Just getting back into surfing and board building after about a 20 year break. Swaylocks has changed, and I miss the old forums, but I will try to adjust to this Discord.
Here is my entry for build of the month. It is a hollow wooden surfboard, built predominantly with Western Red cedar, but also some plywood for the interior. It is 7' 4" x 22" and 2.75" thick. Set up with lots of volume and a little bit of extra rocker to make up for the stiffness of a hollow board. Rails harden up all the way to the swallow tail.
Bottom is a single to double concave, and set up with futures boxes as a quad. 3/4s in the front, and 1/2s in the back. 4oz glass with doubled rails and cut laps. Entropy resin (CLR with CLS hardener) Screw vented up near the nose above the logo. Full pdf plans for the skeleton are posted in the built with wood channel.
For skill level, I'm an amateur. Three complete wood boards before this, one unredeemable failure of a vacuum bagged foam one ( lol. Early 2000s. Thanks to Bert Burger when he came on and got everyone all excited about vac bags and autoclaves but was all mysterious about it and we all were guessing.) I've also coached two friends through their builds of wooden boards as well.
I'll be honest, living inland I don't get out to the ocean that often. And my surfing skills are low from years of inactivity. So a bit of extra flotation and width is what I need and hence the big guy board.
Coolest thing on the weekend was walking into the beach and met this girl from the east coast who had built her own hollow wood board as well. She was so stoked to see another hollow wood board and wants to build more but hadn't even heard of Swaylocks!
---
#18 / FlatDeck Retro Fish by Félix Bousquet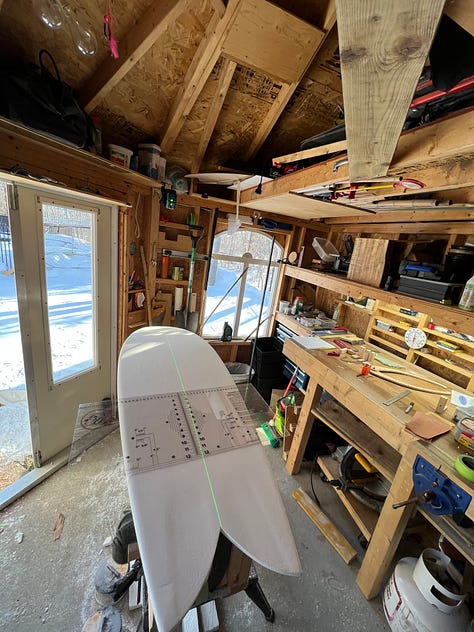 The core is made from stringerless EPS and glassed with Resin Research Epoxy. It is reinforced on both sides with two stripes of clear Inegra tape which makes it more resistant but still super flexible. I attached a picture of my logo and my dimensions :)
---
#19 / Retro Fish "BUZZ" by shun_garage_shape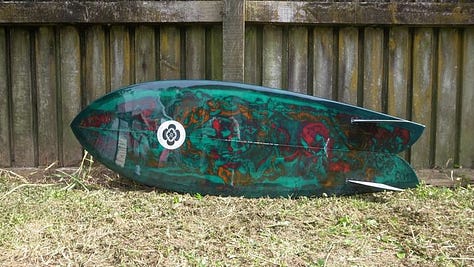 5'6" retro fish "BUZZ" for mabo_tmr mabo_the_mechanic Beak nose for paddle, leash loop for protect damage at tail crack and looking beauty. Done resin swirl on the bottom. Decal by noddyprinter Blanks by psisurfblanksnz Fins by modii_fins
---
#20 / SlipAndSlide by Clossen Surfboards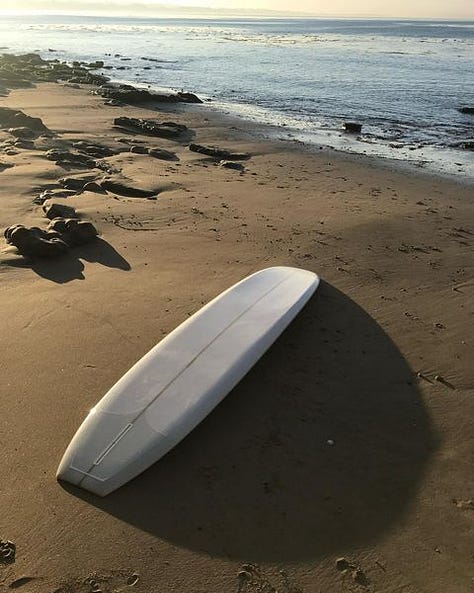 Built to last with a 7.5oz volan bottom + fin patch and double 7.5oz volan deck + knee patch. Pressed flowers from a friends garden and white tapered pin lines. Featuring a stepped deck and tail with concave running through the leash loop. Bottom contours include a deep single concave nose, blended to a flat center, and rolled out the tail. Pinched 50:50 rails turned up out the tail.
---
#21 / Carré Hermès Basque Pilotari Tanker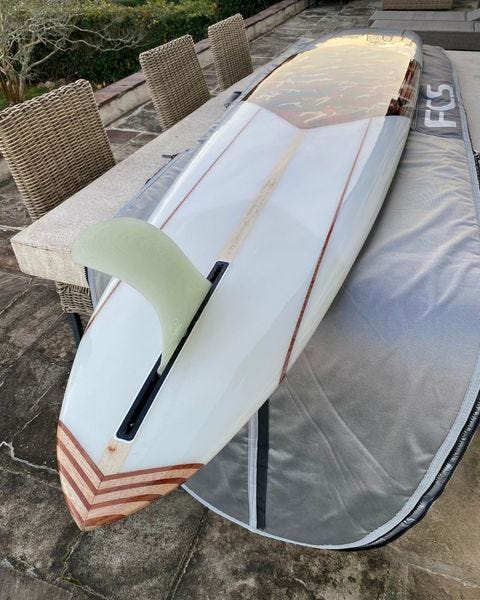 11'6" x 23" x 3 3/4" glider for PA. All stringers glued by myself in a 12'3" Burford blank, wooden nose and tail-blocks also added. "Carré Hermès" with a basque pilotari pattern laminated on the bottom.
Swaylocks Digest is also brought to you by:
---
If you like what you see and want to keep seeing it, buy me a coffee or even better, become a monthly supporter! And if you are running a business and want to get your message out directly to the Swaylocks community, please consider a business sponsorship!
Thanks for reading and until next time, keep building with stoke,
Swaylock 🤙
---
P.S. If you haven't followed it yet, checkout my new instagram handle @swaylocksarchive — I'm posting there once every few days.
P.P.S. Find this newsletter interesting or helpful? Share it!
---
Thanks for reading Swaylock's Digest! Subscribe for free to receive new posts and support my work.