Vote now! Swaylocks January BOTM Contest
Twelve amazing entries for your consideration
Greetings!
Welcome to the new and improved Swaylocks Digest — a monthly digital magazine for surfboard lovers & the people that make them, bringing you fun, compelling content around boards and builders.
Join me in kicking this new endeavor off with Swaylocks first official Build of the Month Contest. We've got twelve submissions, very diverse and all worthy of consideration. But there will only be one winner — and you get to pick. So don't hold back, check all the submissions and then head over to the voting booth and cast your vote!
Cheers,
Mike
---
Build of The Month - January, 2023
Instructions:
Review each of the submissions below. Images are in a gallery style, so click on any image and scroll through them.

Below all of the submissions is a "Vote Now" button. Click that to be taken to a separate voting page.

On the voting page, find your favorite, select it and submit.

Voting closes in two weeks.

The winner will be announced on Instagram and in Swaylocks Digest next month.
Notes: Submissions are listed in the order they were received. If no model name was given, I made one up. And descriptions are unedited.
Also, if you're viewing this in an email, you may want to open it in the app or the website as each of the image blocks below can be viewed as a slide show. Links to those are at the very top of the email.
Learn more about Swaylocks BOTM.
---
#1 / Wall Hanger by Stephan St. Louis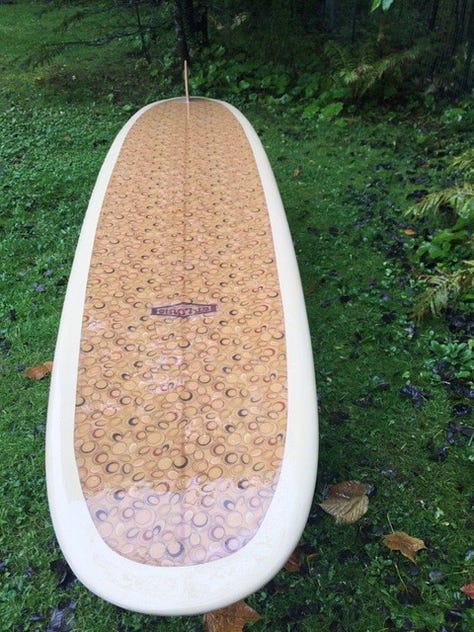 ---
#2 / Everyday Rider by Justin Allen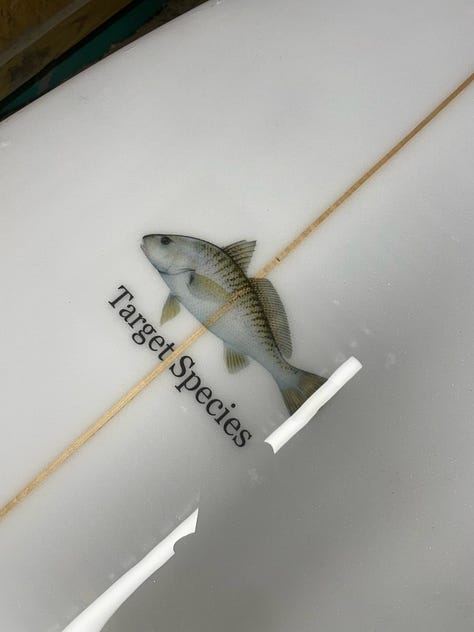 I'll go first, just sanded this one tonight. 5'9"x20 1/4"x2 1/2".
Shaped for everyday conditions here in southeast North Carolina. We'll call this "target species #1" since I just came up with the logos. Thank you so much for getting the site back up. And the archive. I've been using the image search a ton and getting Into some really old threads, some that I'm pretty sure I couldn't access before because of their age. I know I wouldn't be where I'm at as a shaper if it wasn't for sway's help over the last 7 years. -Justin in Wilmington NC (Formerly jballen2 on the forum)
I work for the local water department and the second to last pic is from me trying to get resin to kick in one of our well houses with the heat cranked up. Been freezing here for the last week or so. Last pic is the new shed/glass shop/ future shaping bay that's still a work in progress.
---
#3 / Average Joe Model by Tim Caron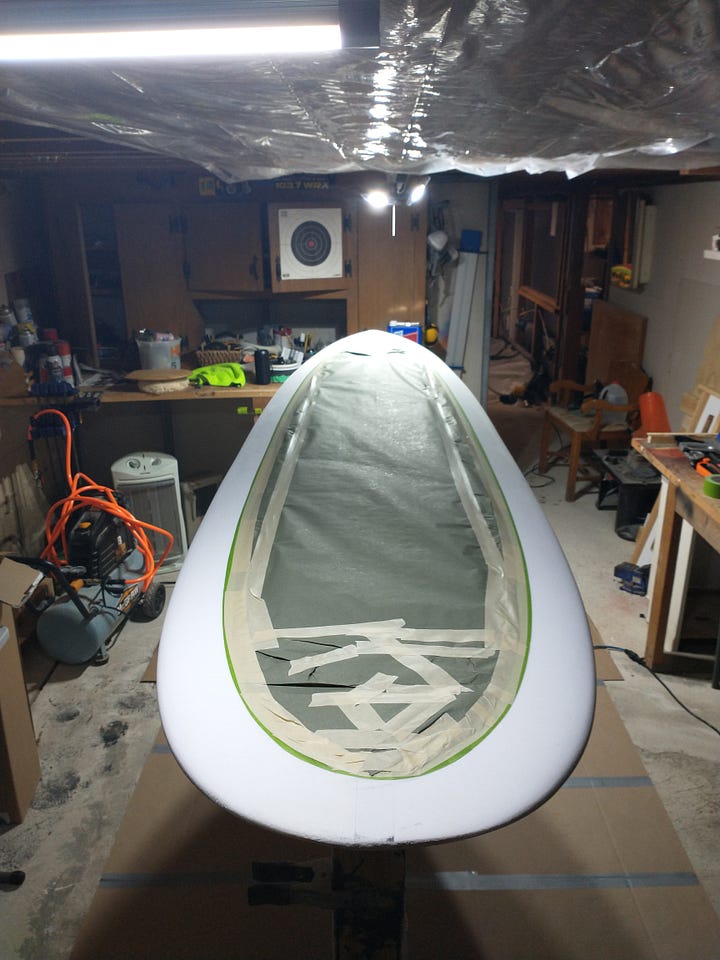 Tim Caron
Surfboards by Caron
Westerly, Rhode Island
Average Joe Model
8' x 23" x 3"
---
#4 / Aipa Inspired Kneeboard by Barry Snyder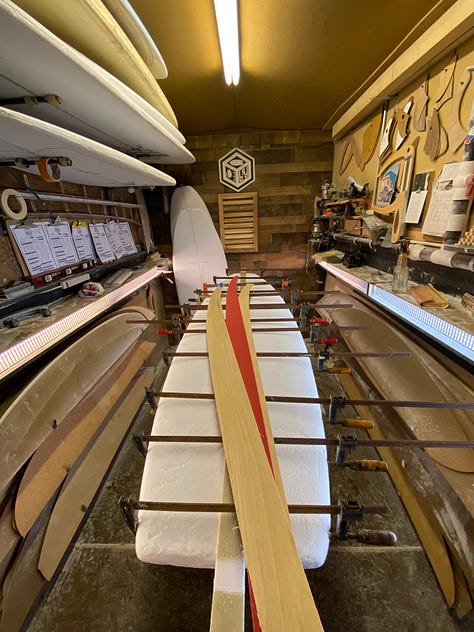 Kneeboard. Aipa influenced. Home grown Agave stringer w/red high density foam. Handshaped. Glassed with Volan cloth, made the foam insert fins with Volan as well. Glassed on. Airbrushed a target design inside deck concave. Double resin pinlines, red and black. Polished up all pretty.
---
#5 / Eggbeater by Joris de Longh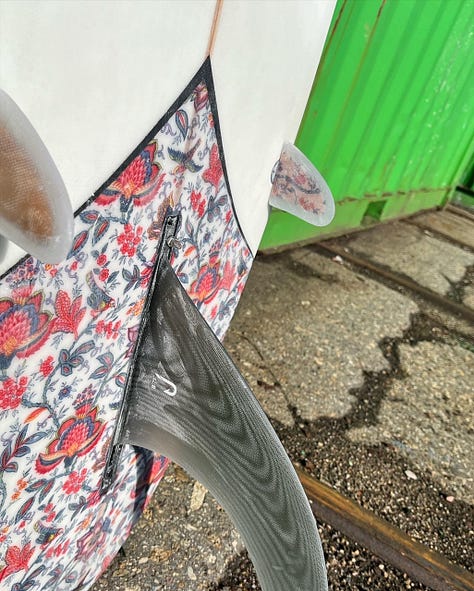 7'8" Eggbeater 21 3/4" 2 7/8"
This is the third board built under my shed-label "HEY custom cruisers and speeders". I built this board for a friend both as a cruiser for small mushy Dutch waves and larger hollow waves for the European Atlantic coast. It has a steep continuous rocker and little handmade sidebites for extra hold. The tail, deck and sidebites have a cloth inlay and the deck and tail are finished off with a pinline. It catches waves so easy and it turns on the dime. Love it!
---
#6 / Mini Pintail Longboard by Paige Caron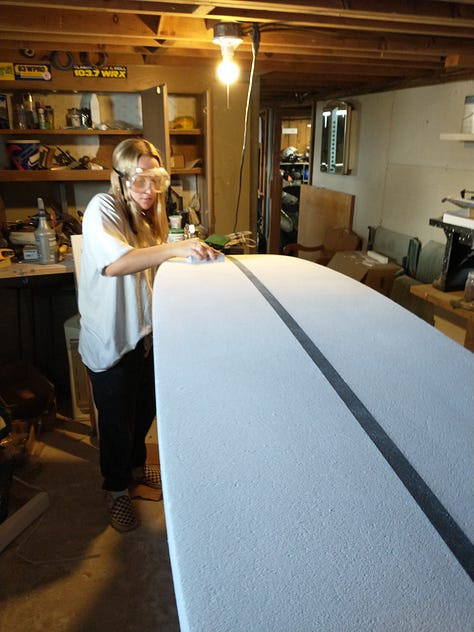 Paige Caron - Age 18
Westerly HS Class of 2022 Sr. Project
Westerly, Rhode Island
Mini pintail LB
Epoxy/EPS
---
#7 / Sinum Surfboards The Knife by Phillipe Martens
New Build: model The Knife: An old school single fin surfboard with high volume and modern touch. A double to single concave from tail to nose allows this board to react quick, turn fast and carve smoothly, 6'5" x 20-3/8″ x 2-1/2″ / Volume 39 L.
---
#8 / Duke Kahanamoku Popout Restoration by Dick Gregory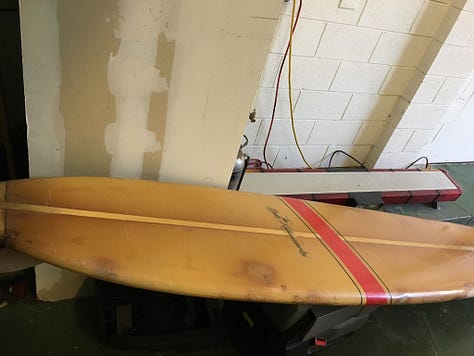 For your consideration…a tribute to the Duke…

I thought I could restore this 10'0"Duke Kahanamoku "pop out" from the mid-60's. It was given to me by a fellow NorCal abalone diver, but because it was so far gone, having been used as a dive platform for decades, I ended up taking it all apart and rebuilding it with 6mm balsa/agave/redwood veneer and paulownia rails.

Rotten 1" balsa/redwood stringer, tailblock, and multiple rail and deck dings had taken water. Stripped the glass and separated the stringer from the foam more cleanly than expected. Glued foam to a new 1" paulownia/redwood stringer, reduced the original dims and weight of the foam to accommodate the added wood dimensions in a return to original dimensions.

Agave "harvested" locally in North San Diego County. Abalone inlays are a nod to my freediving days and the board's heritage. The board was glassed at Rusty Whitlock's shop in Oceanside.
I surfed it twice at Terra Mar… heavy and difficult to turn, but once trimmed was a chop killer. Performs best on the wall! Ultimately donated to California Surf Museum for 2022 Gala Fundraiser.
---
#9 / Redwood Paipo No. 5 by Mario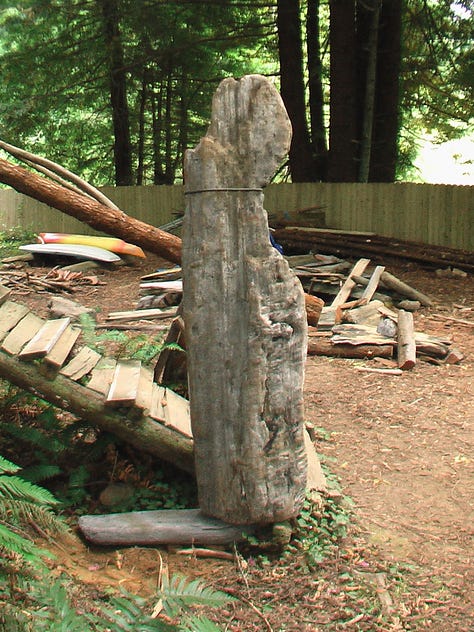 Years in the making.  Maybe it's still a "blank" for someone more capable. But I love the grain.
---
#10 / Eaton Reproduction by Jay Mickelsen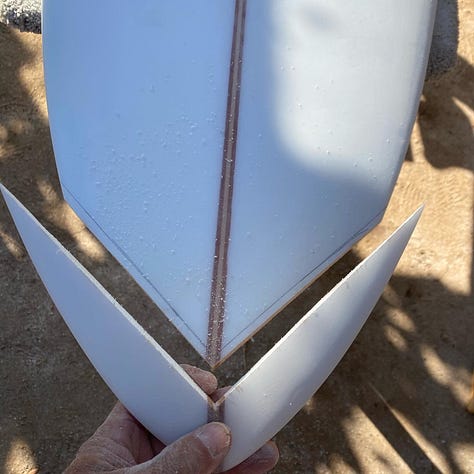 Hi Mike, Resinhead here.  My submission fresh off the press, another back yard build. 
Buddy had this old Eaton that was beat, he needed it copied, and he wanted it to last forever.  Added a few additions like a tail and nose block.  8'4"x 22" x 3 ¼".   EPS 2 lb, Resin Research Epoxy with 3x6 top and 2x6 bottom…a forever board.
---
#11 / Triple Stringer Gun by Guilhem Rainfray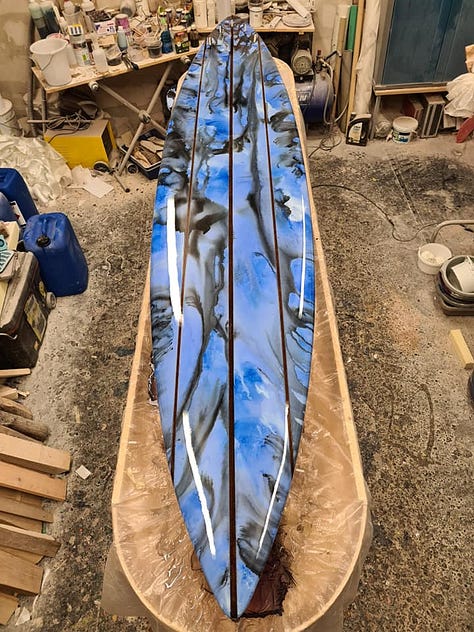 9'10" x 22" x 4" gun.
Shaped from US Blanks 10'6"A with 1/2" black wood center stringer + 2 x 1/4" sides.
Artwork by me using acrylics, water and compressed air on sanded hotcoat. Gently rubbed with 3M red pad, cleaned, then glossed and finely polished.
Available for sale.
---
Handplane for bodysurfing by shun_garage_shape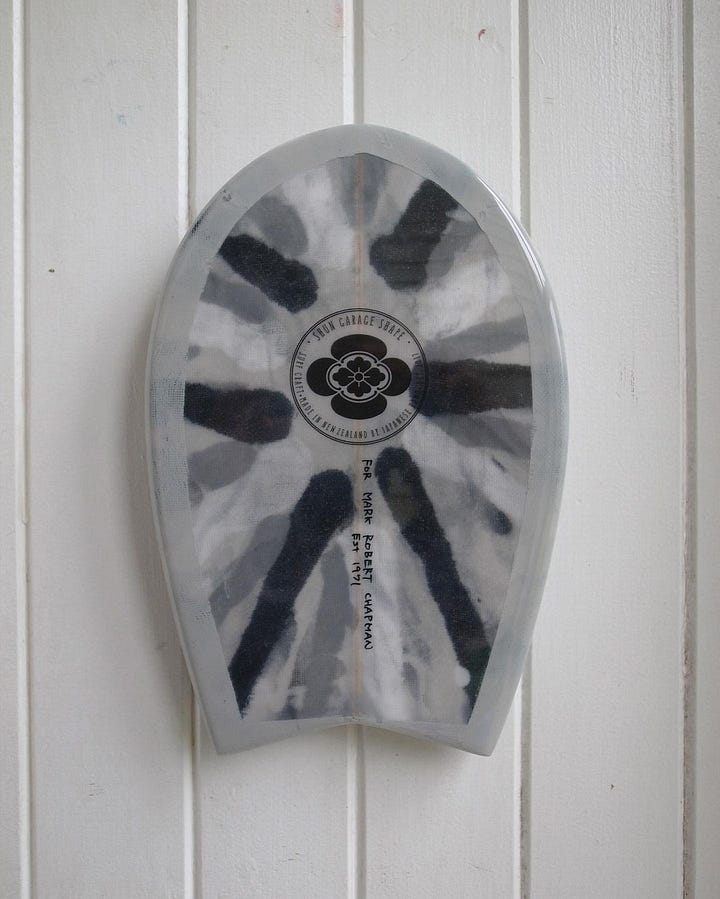 This handplane made by scrap of blanks. Nice opportunity to make it from unwasted material. I hope friend's dad enjoy with it:)
---
---
Swaylock's Forums
Things continue to heat up in the forums. We're up to nearly 450 members and it's growing every day…Lot's of interesting topics both small and large cropping up.
If you've been holding off, now's the time to join. If you if you still need a hand with Discord, check out this post from a few weeks back.
Be sure to say hi and introduce yourself when you land.
---
Swaylocks is brought to you in part by the generous contribution of the following business sponsors. Please check them out and tell them Swaylocks sent you.
Gold Sponsors
---
Keep Swaylock's Alive and Growing!
If you like what you see and want to keep seeing it, buy me a coffee or even better, become an individual sponsor. And if you are running a business and want to get your message out directly to the Swaylocks community, try a business sponsorship!
Thanks for reading and until next time, keep building with stoke,
Swaylock 🤙
---
P.S. If you haven't followed it yet, checkout my new instagram handle @swaylocksarchive — I'm posting there once every few days.
P.P.S. Find this newsletter interesting or helpful? Share it!
---
Thanks for reading Swaylock's Digest! Subscribe for free to receive new posts and support my work.